The Steve Harvey Dating Game is Pinterest-licious!
Editor's Note: This post has a cocktail pairing–Tiramisini by Nigella Lawson. Please scroll down for the recipe.
We all love Pinterest for collecting, sharing, and exploring new ideas. Everything from travel, to recipes, to fashion, to home decor, to art, to business, to music, to memes-you name it, you can probably find it on Pinterest! But dating? Well, the hilarious and creatively brilliant, Steve Harvey, has found a way…with a little help from Cupid's arrow.
In honor of Valentine's Day, Steve Harvey decided to put a new twist on the classic Dating Game! Olivia from Style Channel's "Jerseylicious" played the bachelorette. Known for dating the wrong guy or "typical Jersey Beefcakes" as she likes to call them, she was up for meeting the three lucky bachelors. Instead of the men describing themselves, Steve let their Pinterest boards do the talking. Brilliant!! She was then able to ask a couple follow- up questions such as "What's up with the gold lame boxer shorts on your board?" or "What does that picture of a $100,000 check really mean?" Olivia then chose her date based on their answers and overall feel of their Pinterest Boards.
Social media is about communication and bringing people together. Steve Harvey's creative use of Pinterest as a new Dating Game exemplifies how we, the user, can contribute to the evolution of a particular social media product. By thinking outside of the box, the user can instantly morph and expand the medium into something that the creators haven't even thought of. Bravo, Steve Harvey! Maybe your Pinterest Dating Game will catch on, spreading love throughout the year. Until then…
Happy Valentine's Day everyone!
After the show, Olivia and her chosen bachelor, Jake, went out on a date to Chicago's Del Frisco's. If you'd like to watch what happens, click here. The Date: Olivia and Jake
Technotini Pairing:
Celebrate love with a delicious Tiramisini by Nigella Lawson, as featured on Access Hollywood Live!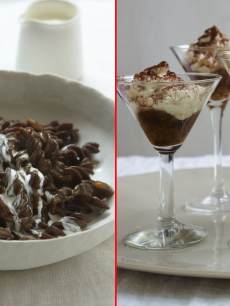 Tiramisini

(Serves 4)

7 tablespoons espresso or strong instant coffee
2 tablespoons coffee liqueur
4 savoiardi cookies (ladyfingers)
2 egg whites
1 cup mascarpone
2 tablespoons honey
2 tablespoons Marsala
Approx. 1 teaspoon good-quality unsweetened cocoa powder
4 small (approx. 1/2cup) martini glasses
Make your espresso and pour it into a heatproof pitcher, adding the coffee liqueur, then leave it to cool. I find 10 minutes outside the window on a cool day does it!
Break each Savoiardi cookie into about 4 and drop the pieces into the martini glasses, then pour the cooled espresso mixture over them. Tamp down gently, making sure the biscuits are soaked all over.
Using an electric hand mixer for ease, beat the egg whites until they form soft peaks, and set aside for a moment.
Scrape the mascarpone into another bowl, adding the honey; I love the way its mellow sweetness marries with the Marsala, though sugar would be fine too. Beat with the electric hand mixer (no need to clean it first) and, when smooth, slowly beat in the Marsala.
Fold in the egg whites, a third at a time, then dollop this mixture over the soused Savoiardi in each glass, using a spoon to whirl it into a swirly peak at the top. Let these stand in the refrigerator for at least 20 minutes and up to 24 hours, then dust with cocoa, pushing it through a fine-mesh strainer, just before serving.
— Nigella's new cookbook, "Nigellissima," is in stores now.
Recipe and picture from http://www.accesshollywood.com
Tell Your Story-Live Creatively
Sign up for our newsletter and receive the On-The-Road Photography Checklist! Never miss another important photo opportunity again.
HI! I'm a Shana, self-proclaimed Media Mixologist, wife, and mom to two little girls. I love to mix up cocktails of crafts, recipes, wellness, family and business with just the right amount of sparkle to help you shine everyday. So, grab a glass, and let's celebrate the cocktail of life!